Lars Christie received his MIA from Columbia University in 2005. Between 2006 and 2012 he has worked in the Norwegian Foreign Ministry, serving as a diplomat both in Islamabad and
Jerusalem.
He was awarded the Ph.D. fellowship at the Department of Philosophy, Classics, History of Art and Ideas 2012, and received his doctoral degree from the University of Oslo in March 2016.
Lars' academic interest lies primarily in the ethics of war. More generally, he is interested in the relevance of causation to morality, moral luck and the notion of non-culpable moral responsibility.
---
Emanuela-Chiara Gillard is a Senior Research Fellow at the Oxford Institute for Ethics, Law and Armed Conflict, and an Associate Fellow in Chatham House's International Law Programme.
From 2007 to 2012 she was Chief of the Protection of Civilians Section in the Policy Development and Studies Branch of the United Nations Office for Coordination of Humanitarian Affairs. The Section works with the United Nations and other key partners to promote and enhance the protection of civilians in armed conflict.
For seven years prior to joining OCHA, Emanuela was a legal adviser at the International Committee of the Red Cross. There she was responsible for providing advice to headquarters and field on legal issues relating to the protection of civilians in armed conflict, children, assistance, multinational forces, civil/military relations, occupation and private military/security companies.
Before joining the ICRC in 2000, Emanuela was a legal adviser at the United Nations Compensation Commission, in charge of government claims for losses arising from Iraq's invasion and occupation of Kuwait. From 1995 to 1997 she was a research fellow at the Lauterpacht Research Centre for International Law at the University of Cambridge.
Emanuela holds a B.A. in Law and an LL.M. from the University of Cambridge. She is a Solicitor of the Supreme Court of England and Wales.
Her research  interests include international humanitarian law, with a particular focus on the protection of civilians and mechanisms for promoting compliance; the role of the Security Council in enhancing the protection of civilians; and principled humanitarian action.
---
Heather M. Roff is a Senior Research Fellow at the University of Oxford, a Research Scientist in the Global Security Initiative at Arizona State University, a national Cybersecurity Fellow at the New America Foundation, and a Research Associate at the Eisenhower Center for Space and Defense Studies at the United States Air Force Academy.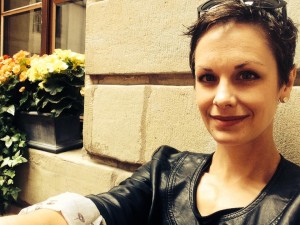 Her research interests pertain to issues of international security and global justice, principally in relation to emerging military technologies. She is author of Global Justice, Kant and the Responsibility to Protect (Routledge, 2013) and over a dozen articles relating to international ethics and emerging technologies, particularly autonomous weapons and cybersecurity. Her new book project, Lethal Autonomous Weapons and the Future of War examines the moral, legal and policy implications of these systems. She has testified before the United Nations Convention on Conventional Weapons as an invited expert on autonomous weapons. Her work appears in the Huffington Post, the Wall Street Journal, The Globe and Mail, and Slate Magazine. 
Prior to joining the IoW project, Heather has held faculty posts at the United States Air Force Academy, the University of Waterloo, and the Josef Korbel School of International Studies. She holds a B.A. in Political Science from the University of Arizona, an M.A. in Political Science from the University of Wisconsin, and a Ph.D. from the University of Colorado.
Dr. Roff's research interests include the ethics of emerging military technologies, such as autonomous weapons, cybersecurity, artificial intelligence and human enhancement. She is also interested in just war theory, the moral and political philosophy of Immanuel Kant, feminist political thought, human security, security studies, international relations, international relations theory and international law. She is most interested in the intersection of theory and practice, bringing philosophy and political theory to bear on pressing problems of international justice and human rights protection. Her normative work is guided by a strong foundation in empirical political science, as well as a robust understanding of various technologies and weapons systems.